My story and inspiration for Whitby Yard
Welcome to Whitby Yard!
I'm Jacquie and was born in Wimbledon, London, starting my career working in an animation company before moving on to an interior design house in the prestigious Chelsea Harbour and more recently I've worked as a senior manager for a Blue-Chip UK company.  I've always had a passion for creativity and studied at Salford University in interior design. Having relocated to the county of Yorkshire to live I soon discovered the Whitby coast and spent many weekends there and loved it so much decided to buy a holiday home in the town.
My inspiration for the Whitby Yard brand came about after a lazy holiday in New England in 2018, I wanted to capture the essence of Cape Cod and Martha's Vineyard and evoke the thought of long Summer days, taking in the salty air and watching the yachts with their breezy sails cruising on the waves.
The sight of a whale off our Whitby coast is iconic, representing a grace and power to leave all in awe at the magic of these majestic mammals, this was the inspiration of the whale tail on my logo. I'm proud of my association with Whitby, its long sandy beaches and timeless nautical heritage.  It is ancient seafarers who first created Whitby's yards, enjoy meandering around these today and feel their spirit seep from the cobbles. 
With this inspiration in mind and a desire to set up my own business in 2019 I launched Whitby Yard, a clothing range that is produced exclusively from organic Indian cotton and is Earth Positive;  made in manufacturing facilities powered by green renewable energy, from low impact raw materials. We are pleased to announce that our recently opened Saltburn-by the-Sea shop joins the original shop in Church Street Whitby. Our range is also available here online.
I hope you enjoy wearing 'Whitby Yard' clothes as much as I have creating them.
NEW Whitby Store
85 Church Street, Whitby, YO22 4BH
Situated in the heart of Whitby, along the bustling cobbled street leading to the foot of the 199 Steps.
Get Directions
Saltburn-by-the-Sea Shop
Station Buildings Station Square, Saltburn-by-the-Sea TS12 1AQ

In the centre of Saltburn, situated in the historic old station buildings.
Get Directions
Collaborations
Whitby Yard are passionate about sustainability and that's why we are excited about our collaboration with Sails and Canvas who share the same values for recycling and sustainability. Sails and Canvas was founded in 2015 by two childhood friends, Mandi and Juliette and are based in a sail loft studio in Devon. They recycle sailcloth, meaning every sail they use is given a new lease of life and less sailcloth end up in landfill. The thread, grommets, insignia and canvas used is all of marine quality and where possible sourced locally.  Sails and Canvas have exclusively made a few items from their range for Whitby Yard, adding our whaletail and oars designs to their sailcloth bags and products 
We at Whitby Yard absolutely love them, we hope you do too.
Visit our recycled sailcloth collection and help save our environment by stopping sails ending up in landfill.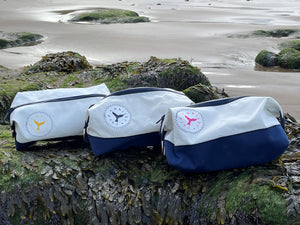 Whitby Yard® is a registered trademark - UK 00003434874
The Whitby Yard® Whale Logo is a registered trademark - UK 00003755269